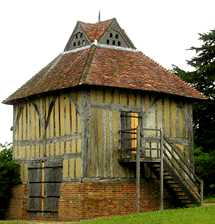 The idea of a female dovecote keeper opened a new world for me. I shouldn't have been surprise that most dovekeepers were girls and women, after all, women are often the ones on farms today who care for chickens. My problem was that I assumed Anglo Saxon women prior to 1066AD were chattel, in the way they were after the Normans brought their brand of aristocracy, feudalism, and even bigotry.
For about a year I had played with the idea of a book based on pigeons. Pigeon fanciers, those that raise and breed all types of specialized pigeons, are predominantly male, especially in the US. There are many reasons for this, I'm sure, and I won't explore them at this time. Just suffice it to say that my assumption that in 1066 AD pigeons, whether for eating or for messaging, were cared for by boys and men only was an erroneous extrapolation of what I saw happening today.
The Anglo-Saxon world before 1066, however, was a different world. Made up of a pieced together England, with a king more friendly to Normans than to Anglo-Saxons, and with a populace that had deep roots out of Germanic cultures. It had also experienced peace for an astonishing forty years. The Normans influence in England during this period was strong, but the feudalism of Normandy had not been extended to England. Women owned and inherited land, woman had the right to choose their husband, woman had legal rights extending beyond marriage. And women had duties and responsibilities. They were not encased in safe little houses and expected to do nothing but cook and raise children. They were full partners in many aspects of life: businesses, farms, crafts, shops. And, apparently, caring for and managing dovecotes.
I have not found documented proof that dovecotes existed in England in the time immediately before the invasion by the Normans. I "imagine" they did. Norman lords, of which there were many, would want squabs (young pigeons) for their dinners and the soft down feathers for their beds. Other fowl were available, but pigeons had the great advantage of being able to forage for themselves. Let them out in the morning, and they would find their own feed and water, conveniently returning at night to be harvested as needed.
The downside of this free-range foraging was that they ate the seeds planted by the farmers, requiring the laborers to reseed the fields. I'm guessing that pigeons were not highly thought of by these indentured people, called villeins back in medieval times. The lords placed the dovecotes inside the great protective walls of towns or (later) castles to try to limit the damage to the fields. Not entirely successful. And these later dovecotes were build like fortresses, with stone walls several feet thick.
Again using my imagination, I envision the early English dovecotes to be simple houses built off the ground to discourage vermin and predators, maybe even built as the second story of a house. They would have a small doorway, also to limit predators, and perhaps louvers near the roof that could be opened and closed with ropes. Nest boxes would be built into the walls of the structure, and a ladder placed inside so that the dovekeeper could reach the upper nests.
Armed with a bit more knowledge about the Anglo Saxon society, I expanded my book beyond a simple adventure story with battles and the troubles a boy on the edge of being a man might get into. The novel, in my opinion, came alive with a strong female character. The balance of male and female characters allows me to delve into the society as a whole.